How To Spend Your Wedding Catering Budget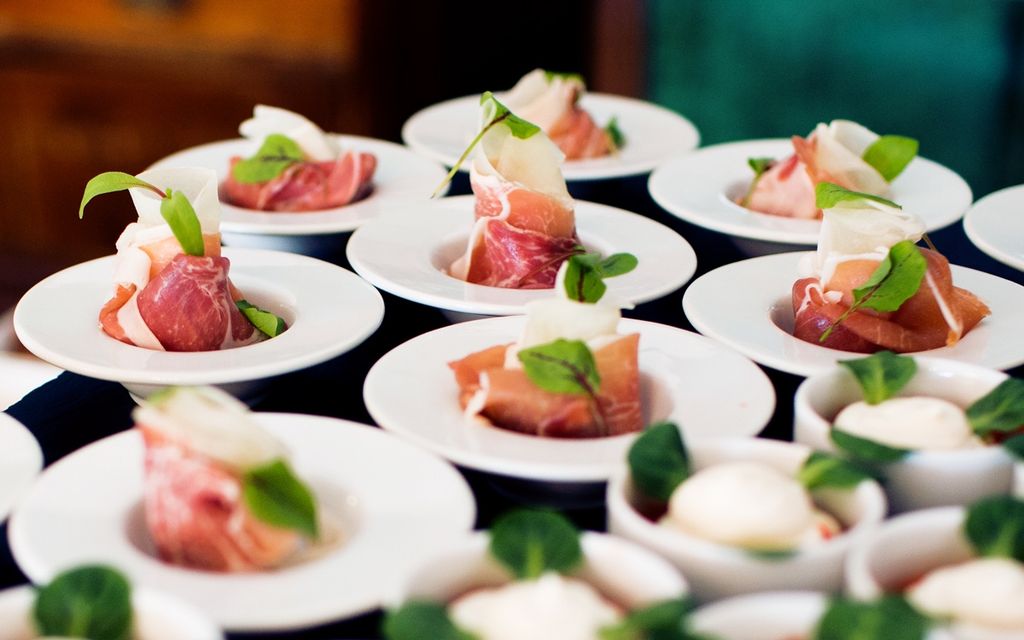 Figuring out a wedding budget is essential to getting hitched without any hitches. Food and beverages account for anywhere from 10 percent to 50 percent of that budget, which makes catering a vital and potentially very costly aspect of most weddings. With that said, a wedding catering budget doesn't mean affordability has to be sacrificed for quality. How?
Initial Considerations
Take a minute to consider the other facets of the wedding and how they apply to the catering budget. Here are five things to figure out beforehand:
What's The Overall Budget?
Have a realistic and itemized budget. It's impossible to determine the best ways to spend a catering budget if a hard number for food and drink hasn't been established amongst the fray, right? Just some food for thought about being realistic – the typical wedding budget averages between 30k to 40k, and the typical wedding catering tab is around 4k.
Figure out who is paying for what and how much each party is willing to spend. From venue, attire, media, entertainment, flowers, decor, cake, and catering… everything needs a baseline number based on its ranking of importance and priority.
How Many Guests?
A big part of spending a catering budget is knowing how many people need to be fed. Adjusting the guest list number can make the catering tab go up or down, and this is the place quality and quantity will be a deciding factor in how the catering money is managed. A smaller guest list means more can be spent per head. If the guest list is immovably large, then consider doing fewer courses to counterbalance the cost per head. Either way, a head count is necessary before dedicating a single dime in the catering budget.
Where's The Wedding Venue?
Some urban locations are more pricey by nature, fall under a tourist destination, or involve a high-demand venue with a minimum head count. Likewise, if the location is more rural, then catering might involve bringing food and staff in from afar. If catering is a priority, then be sure to consider such facets prior to venue selection.
Is It An Evening Or Day Event?
From bigger meals to guests being more prone to drinking, evening weddings are typically more expensive than daytime weddings. In fact, this is one of the reasons brunch weddings have become so popular. It's a great way to get a huge bang for the catering dollars.
What's The Wedding Style?
As a general rule, more formal and upscale wedding themes and venues are matched by more sophisticated (expensive) catering menus. Whereas, more low key wedding themes easily pair with a simpler (less expensive) cocktail hour with finger foods.
How To Spend Catering Dollars Wisely
Once the above factors have been considered, there are plenty of ways to make the most of any wedding catering budget. Here's a few tips and tricks:
1. Serve out a modest wine or champagne by the glass during the event. Dress it up some by pouring it table-side. For the toast, bring out the expensive bottles or leave guests to toast with their preferred drink that's already in-hand.
Don't splurge for top-shelf liquor that most guests won't even notice is being used, and consider a limited open-bar or even cash bar to keep costs controlled.
2. When planning the menu, take advantage of local produce and seasonal offerings, which are generally cheaper by being fresh and readily available.
3. If multiple guests have dietary restrictions, such as gluten-free or sugar-free, consider making the entire menu accommodating verses making individual special plates that can add major costs to the bill.
4. Protein is typically the big ticket item. Ask the catering service about smaller portions and how to use alternative cuts of protein that are less costly.
5. Consider family style or buffet over a formal seated dinner to eliminate the need for a multitude of servers. If doing appetizers, staff can also be cut down by using a stationary table display for trays.
6. For a plated dinner, ask guests to RSVP their selections.
7. Don't book a catering until after the venue has been booked. This will help avoid running into any conflicts that could create extra fees, such as for unexpected rentals, or even result in catering cancelation costs.
8. Don't forget to determine if any service fees apply to the catering budget. For example, are servers, cleanup, and corkage included in quotes? Such can create unexpected end costs.
Spending a catering budget looks much simpler with a little forethought to the other wedding facets and a few easy tips to keeping costs reasonable, right?